We installed 2 Alpine subwoofers in a prefab ported box, a new amplifier with new Alpine Type R speakers, and a new touchscreen stereo unit from Alpine in this Mercedes G-Wagon. Prefab subwoofers are more affordable and sound great as they are specifically made for that kind of sub.
430,000 miles on this G-Wagon and is now even more enjoyable with a stereo taken to the Next Level!
---
Interested in Customizing Your Mercedes?

Contact Us Today!
If you want custom work done to your car, truck, van, boat, ATV, side-by-side, motorcycle, or UTV, then Next Level Inc. is your place! See our Google Reviews and see why others have chosen us to work on their vehicles.

---
Call for appointments 407-704-5676 Stop in and enjoy playing with new speakers and stereo's on our demo wall full of head units and speakers. Crank it up, that's what its for! 87 W. Michigan St. Orlando Florida 32806 Check us out on Google
We had a customer bring us their Regal Boats 2300 model for a custom dash panel, a stereo upgrade and new SeaDek® flooring. For the stereo, Kicker Audio was chosen by the boat owner and Fusion radio was picked as the receiver unit that we installed in the glovebox and a remote unit on the back of the boat by the swim platform.
The dashboard is custom cut on our in-house CNC machine with Acrylic material and made to fit perfectly for any boat. The boat gauges look great with the new sleek look of the acrylic dashboard.
SeaDek®
SeaDek® is a revolutionary product utilized not only by the top boat builders in the marine industry, but also in the aftermarket by boat owners seeking custom products. Made from closed cell PE/EVA foam, SeaDek products offer safe and comfortable alternatives to marine traction products currently on the market. Easy to install and customizable, SeaDek replaces the need for molded in non skid, saving OEMs time and money during the manufacturing process.

Formulated with an acrylic based high-bond pressure sensitive adhesive, SeaDek's robust peel and stick application lends itself to easy installation that requires no mounting of hardware. SeaDek is available in a variety of textures, thicknesses, and colors; providing virtually endless customization. In addition to our standard options, SeaDek offers premium options such as triple lamination, custom routing, static laser logos, full sheet laser patterning, and more!

SeaDek can be tailored to fit endless applications on nearly any type of boat. Some of the other benefits SeaDek offers include:Exceptional traction, even when wetUnparalleled comfort when standing, walking, or leaning on boat surfacesShock absorption, which decreases fatigueProtection for boat surfaces against scratches, chips, and dentsNoise reduction characteristics – ideal for fishermen

"If you have a boat, you have a place for SeaDek!"
Just In for Jeep Wrangler's!!!!
Splash-Proof and Dust-Proof!!!
The new Alpine Electronics of America 9-Inch touchscreen and dash kit are splash-proof and dust-proof, rated at IP53* so the adventure can go on uninterrupted.
The colossal i109-WRA In-Dash Restyle System with Apple CarPlay brings you an innovative way to use your iPhone on the road in your 2011-Up Jeep Wrangler. Apple CarPlay gives iPhone users an incredibly intuitive way to make calls, use Maps, listen to music and access messages with just a word or a touch. When Apple CarPlay is used on the i109-WRA, users can control Apple CarPlay from the massive 9-inch touchscreen, custom designed hard keys on the dash kit or activate Siri for minimized distraction. Apple CarPlay uses a Lightning connector and is compatible with iPhone 5 and later, and iOS 7.1 and higher.
Installed at Next Level Inc., the unit comes ready with:
Apple CarPlay & Android Auto
Built-In GPS Voice Guided Navigation
DVD/CD Entertainment
For more information, call or stop in today!
407-704-5676
Airboats are fun! We have some boats ourselves that we have installed custom Seadek Non-Skid, waterproof speakers from Kicker, and Ocean LED lights just like on this customers boat. The customer already had Seadek installed, but has asked us to install a screaming stereo so they can hear the music from across the state.
Kicker speakers and amp were installed in a matter of a couple of hours with custom mounting brackets. Music can now be controlled from a remote or a smart phone.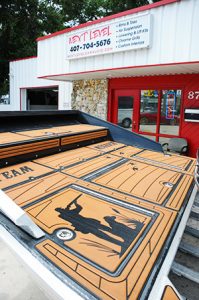 A client came to us with a 1971 Mustang Mach 1 looking to get a custom sound system installed. We decided to put a MMats Pro Audio system in with Custom kick panels for two 6.5″ speakers in the front and two 6×9″ speakers mounted in the back deck. All of these speakers are powered by a MMats MPA470 amplifier and a Classic car stereo with USB and aux inputs. Call today for all custom audio options for your classic car 407-704-5676.