Technology has ushered in a new age of convenience and accuracy. While we continue to advance so do the multiple tools used in law enforcement. Law enforcement agencies across the nation are equipping themselves with the latest and most advanced radar and laser systems on the planet. One such laser gun, the dragons eye, is helping law enforcement crack down on speeders in real time and has alarming accuracy.
With something this advanced, we need protection just as advanced to combat it.
Below, learn about the difference between speed ticket protection systems including window mounted radar detectors, to advanced Laser Diffusers installed in the front and rear bumpers. Either way, these products from Next Level are the best in the industry and will work on most vehicles.
---
Escort Max 360 System Custom Installed in V10 Bentley
The ESCORT MAX Ci 360 is one of the best radar and laser systems on the market today. With this Bentley having a custom rear view mirror to integrate the LED display screen, this system is even more stealth than other installs we've done.
There is a community of Escort users and with certain products, you can automatically connect to the ESCORT Live® app with 8 million monthly alerts from 3.5 million drivers—no smartphone required.
Get The Lowest Price
All our customers deserve to enjoy our technology with the confidence that they received the best price. Find a better advertised price online for any current ESCORT portable premium model radar and we'll match it within 30 days of purchase.
---
Another great product saving you from speeding tickets:
K40 Electronics
K40 electronics and Next Level Inc. are installing the latest and most advanced radar detection and laser defusing systems on the planet. K40 has been manufacturing radar systems for over 40 years and are the leading manufacturers of police radar detection systems in the nation. They have created a sophisticated and customizable radar detection and jamming system called the RL360di.
NEW! K40 RL360di: First integration-ready custom-installed radar/laser system — The K40 RL360di is the industry's first custom-installed dual receiver radar detection system that integrates with the ADS Maestro RR interface and select Kenwood/JVC radios* for a visual and touch on-screen experience.
K40 Kenwood Source Screen Integration features include:
Detailed on-screen alert information
· Threat location
· Radar band and signal strength indicators
· Real-time vehicle speed display
Touch screen control of system features and functions
Steering wheel control of system options (on compatible vehicles)
K40 Electronics released our all-new Platinum Series line of radar detectors. We have engineered the Platinum360 and the Platinum200 with over 40 years of cutting-edge product focus to be the most discreet and reliable speeding ticket defense on the market. All K40 Electronics products are backed by the world's first and most comprehensive Ticket-Free Guarantee.
All-New Technology
The Platinum Series has more range, sensitivity, and customizable options than any of our previous models before. In addition to the 18 customizable features already standard on current K40 Electronics radar systems, the Platinum Series offers additional features and settings so that the alerts that drivers receive can be perfectly tailored to fit their driving style.
With the new, enhanced radar receivers, your customers will love driving with the new Platinum Series.
While the new Platinum Series custom-installed radar detectors offer numerous technology and feature enhancements, drivers have the same confidence-inspiring features that made previous generation K40 systems the most trusted name in police radar protection.
Keep watching your email for more about the new Platinum Series! In the coming weeks, we'll be sending out more information about all the new features of the Platinum Series and how these systems are engineered to give your customers the most complete speeding ticket protection possible.
If you'd like to know more about the newest technology in K40's radar detectors, call us 407-704-5676
---
The Latest Technology for OEM Look and Feel
In addition to offering drivers the future of vehicle integration and connectivity today, the RL360di features revolutionary enhancements for an OEM experience:
A powerful CPU for enhanced and responsive system capabilities
Three I/O ports for current integration and future system expansion
Headlight Auto Dim (optional…see K40 Authorized Dealer for details) switches K40 system alert LED brightness to Night setting and DIM menu to Night and Off when headlights are turned on.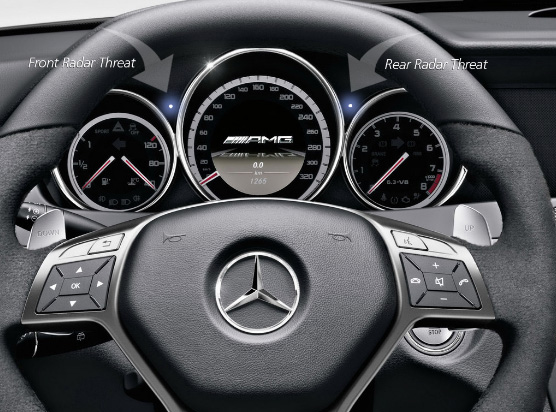 The RL360di is a full 360 degree radar protection system that can be installed in your vehicle with multiple components that provides advanced warning of law enforcement radars and keep you truckin' to your next destination. With a powerful CPU and the latest technology, the RL360di's features include a visual and touch screen experience, threat location, radar band and signal strength and real time vehicle speed display.
Drive comfortably knowing that law enforcement won't be issuing you a ticket with the RL360di installed by Next Level. With directional awareness you'll know exactly where the police are. The k-band filter will help filter out the false and weak signals keeping you focused on the police threat. You will also be able to avoid traffic flow sensors that are commonly found during highway driving. Lastly you'll have a GPS system with over 17 customizable settings to help filter non-police threats.
---
Ask about our *Lifetime Labor Warranty On Every Installation
---
K40 Laser Defuser® Protection
Not only will you be able to detect police laser, but you'll be able to defuse them as well. K40's RL360di can also be equipped with laser difuser transponders installed on your vehicle that will Provide additional protection from speeding tickets. Custom LED lights installed in your dash will notify you of signals received by your K40 system. You'll find driving enjoyable again with K40's RL360di.
— Become invisible to police laser guns. The RL360di, combined with the jamming power of Laser Difuser transponders, delivers the ultimate in ticket-free radar and laser protection.
---
There's only one option and that's Next Level with their installation of the K40 RL360di police radar detection and laser jamming system. Discover the roads again without the hassle of receiving a speeding ticket.
Stop in our shop today for more information on how we can install your car with this system from K40 Electronics. Or for a more affordable option, check out Escort Inc.
---
More on Escort Radar Inc.
The new ESCORT MAX 360c is the first radar and laser detector designed for the connected car. With built-in Wi-Fi, the MAX 360c updates through the on-board Wi-Fi connection, alerting the driver to the latest ticket threats in real-time.
Before buying online……Ask about our *Lifetime Labor Warranty On Every Installation

WAS $699.95, NOW
$649.95
AVAILABILITY: IN STOCK
Receive the Escort Gold package with purchase of the MAX 360c. Gold Package Upgrade includes: 3 year Defender Database subscription, 24 additional months of service protection and a download cable. Coupon code MAXCGOLD.
The new ESCORT MAX 360c is the first radar and laser detector designed for the connected car. With built-in Wi-Fi, the MAX 360c updates through the on-board Wi-Fi connection, alerting the driver to the latest ticket threats in real-time.
The new ESCORT MAX 360c connects directly to the connected car's Wi-Fi and automatically connects to ESCORT Live, our exclusive real-time ticket-protection network, without the need for your smartphone to connect to the detector. ESCORT Live keeps drivers aware of upcoming alerts received and reported by other users in the area, and gives you access to local speed limit data for over-speed alerts, right out of the box.
Escort zr5 fights against laser guns.
ZR5 is the most advanced defense system against targeting laser guns. ZR5 can be used alone or interfaced with select Escort radar detectors* for the ultimate in driving protection.
*Currently compatible with Max 360c and Redline EX.
Professional Installation Recommended
Escort MAX Ci 360 Installed on 2020 Ferrari F8
---
Ask about our *Lifetime Labor Warranty On Every Installation
*Warranty based on customer purchasing product through Next Level Inc.
– Outside products are welcomed, but not warrantied by Next Level.
---
Contact Us Today!
If you will like to do custom work to your car, truck, van, boat, ATV, side-by-side, motorcycle or UTV, then Next Level Inc. is your place!
Open Monday-Friday
9am-6pm
See our Google Reviews and see why others have chosen us to work on their vehicles.
---
Stop in and enjoy playing with new speakers and stereo's on our demo wall full of head units and speakers. Crank it up, that's what its for!
Photos taken from Next Level, k40.com and dragoneyetech.com