This Stingray boat was brought in to us to have new speakers and head unit, Seadek surface installed, and a professional detail. To install Seadek Non-Skid surface, we have to scan the entire boat with a special machine that is here at our shop. Then we go to the computer that puts the measurements into the software to have another machine custom CNC cut the surface padding to the dimensions previously measured. The Stingray text is also CNC'd along with the customers desired pattern. The boat was professionally detailed from head to toe, including all of the salt water barnicles on the boat. Once the cleaning was done, we carefully install the padding surface like a puzzle.
Once Seadek, the Kicker KMC10, and 6 new Kicker speakers were installed, we had a the detailer clean and buff the boat one more time to bring color back and remove scuffs for the customer.
*Before and after pictures
Airboats are fun! We have some boats ourselves that we have installed custom Seadek Non-Skid, waterproof speakers from Kicker, and Ocean LED lights just like on this customers boat. The customer already had Seadek installed, but has asked us to install a screaming stereo so they can hear the music from across the state.
Kicker speakers and amp were installed in a matter of a couple of hours with custom mounting brackets. Music can now be controlled from a remote or a smart phone.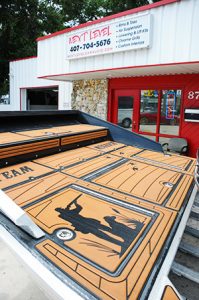 We installed Kicker marine speakers on this customers SeaRay Sundeck boat.
At Next Level Inc. we give a lifetime warranty on all labor when products are purchased through the shop.
Come drop your boat off for the day and we can have our expert installers give your boat or yacht the stereo it deserves. We also carry OceanLED for underwater marine lights that are easily installed here at the shop.
Can-Am Off-Road side by side vehicle came to have custom installation of speakers, lights, and more.
•Four 6."5 kicker marine rgb coaxials
•One 10″ subwoofer in custom enclosure
•Bluetooth adapter to 800.5 amp
•Custom switch panel
Installed two 6.5 kicker marine and marine clarion receiver w Bluetooth
We installed a couple of Kicker waterproof/marine speakers with multicolor coaxials on this flats fishing boat for a more fun adventure. Come into our shop and play with the speakers we have set up for you to demo.