Dash kit, wiring harness, antenna adaptor kit made to retain steering wheel controls
iLX-W650 Alpine 7in touchscreen
Alpine Type R 6.5″ Component Speaker System
Alpine Type R 6.5″ COAX 2Way
Alpine R-Series 10″ Dual 4ohm Subwoofer
Alpine R-Series 6 Channel Amplifier with Staggered Power
Custom Subwoofer Enclosure with trim panel and amp rack, both wrapped in black carpet
LedGlow Bluetooth Million Color LED Car Underbody Lighting Kit with 2 Interior Lighting and Smartphone Control
Sirius XM Module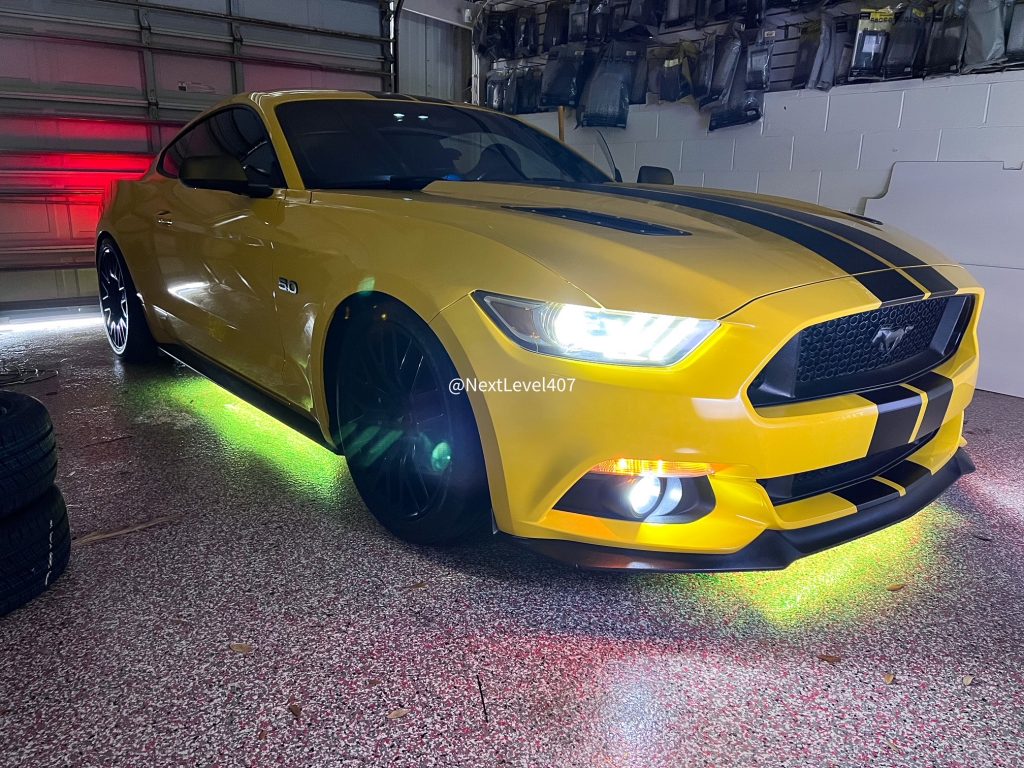 Next Level prides itself on custom stereos like this one our team did in a wide body Ford Mustang. A lot of work was done to this car by the owner like the vehicle wrap, engine upgrades, wide body kit, and it's gutted for a better power-to-weight ratio. The customer wanted us to make him a Next Level type custom stereo that fit in the trunk. We installed 4 Kicker amps, made a custom plate and custom mold to hold the Alpine subwoofer, then added new LED lights to showcase the trunk.
Four Kicker 2channel Amp with Alpine R Subwoofer
Follow this Mustang on Instagram –> @Boosted8 on IG
---
Contact Us Today!
If you will like to do custom work to your car, truck, van, boat, ATV, side-by-side, motorcycle or UTV, then Next Level Inc. is your place!
See our Google Reviews and see why others have chosen us to work on their vehicles.
---
Stop in and enjoy playing with new speakers and stereo's on our demo wall full of head units and speakers. Crank it up, that's what its for!
A client came to us with a 1971 Mustang Mach 1 looking to get a custom sound system installed. We decided to put a MMats Pro Audio system in with Custom kick panels for two 6.5″ speakers in the front and two 6×9″ speakers mounted in the back deck. All of these speakers are powered by a MMats MPA470 amplifier and a Classic car stereo with USB and aux inputs. Call today for all custom audio options for your classic car 407-704-5676.
Client came to us with a brand new 2015 Ford Mustang wanting an interior and exterior underglow kit. We added lights under the dash for the interior and inside of the grill and underneath for the exterior. These lights are also able to be controlled through an app on the clients smartphone to change the color and pattern. 407-704-5676