Better get out of the way because this lifted Ford F-450 just got a new train horn. @hornblasters has innovated and led the way in the consumer air horn and safety device market.
Make the installation easy with Next Levels professional installers.
Give us a call for an appointment. Monday-Friday 9am-6pm
(407) 704-5676
We gave this Jeep's new fenders a fresh coat of paint and installed a new Morimoto turn signal kit taking this vehicle to the next level.
Say goodbye to dim halogen lights and embrace the brilliance of the XB LEDs, complete with eye-catching sequential LED turn signals. Crafted with durable polycarbonate lenses and lightweight ABS housing, these lights are built to withstand tough terrains.
Compatability:
Jeep JL Wrangler: 2018-2023 (Sport S, Black and Tan, Sport Altitude, Freedom, Sahara, Rubicon, Sahara Altitude, North Edition, Rubicon Recon, High Altitude, Moab.**)
Jeep JT Gladiator: 2020-2023 (Sport S, 80th Anniversary, Overland, Rubicon, Mojave, High Altitude.
Call us for any automotive painting or lighting work you'd like to have done!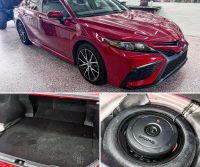 This sleek subwoofer was designed for spare tires without removing the spare tire.
This Toyota Camry had this subwoofer custom installed to lock and sit right above of the spare tire, allowing for maximum musical enjoyment, while still having easy access to the spare tire if needed.
Call us to schedule your free quote on a custom install of new audio, lights and visuals. 407-704-5676
Get a Free Quote today for your Next Level Audio upgrade!
In the pursuit of luxury and refinement, even the most elite vehicles like the Bentley embrace modern technology for heightened safety and awareness. The installation of a radar detector in this opulent automobile marks a strategic step toward safeguarding both driver and vehicle. Seamlessly integrated into the cabin's aesthetic, the radar detector adds a layer of smart awareness, ensuring a smooth and confident drive without compromising on the Bentley's timeless elegance.
The K40 Platinum 360 Premium Radar/4-Laser Defuser System
One of the top priorities for any driver is staying informed about their surroundings while on the road. The K40 Platinum 360 Premium Radar/4-Laser Defuser System is a state-of-the-art solution that provides comprehensive protection against radar and laser-based speed detection technologies, ensuring you have ample time to react to potential threats.