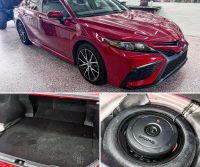 This sleek subwoofer was designed for spare tires without removing the spare tire.
This Toyota Camry had this subwoofer custom installed to lock and sit right above of the spare tire, allowing for maximum musical enjoyment, while still having easy access to the spare tire if needed.
Call us to schedule your free quote on a custom install of new audio, lights and visuals. 407-704-5676
Get a Free Quote today for your Next Level Audio upgrade!